From DDR-Presse: Beitraege und Materialien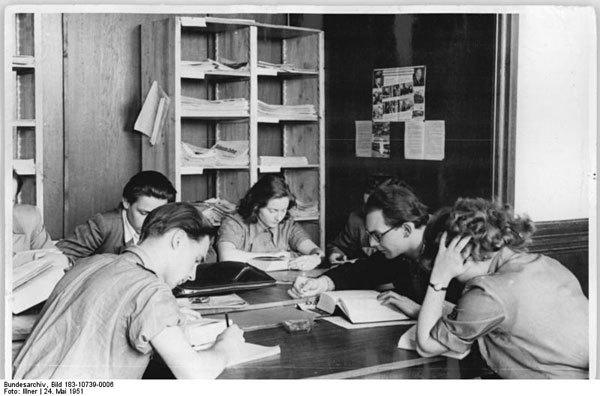 No higher resolution available.
https://commons.wikimedia.org/wiki/File:Bundesarchiv_Bild_183-10739-0006,_Leipzig,_Universit%C3%A4t,_Studenten.jpg
Leipzig, Universität, Studenten Das Zentrale Institut für Publizistik und Zeitungswissenschaft der Universität Leipzig. Das Institut hat die Aufgabe, künftige Redakteure und Journalisten für die demokratische Presse auszubilden. Der Studienplan des Institutes lehnt sich an das Vorbild der Abteilungen für Publizisitk an den Universitäten Moskau und Leningrad an und wird ihre Erfahrungen und Arbeitsmethoden auswerten. Das Studium gliedert sich in Gesellschaftswissenschaften, Publizistik und Zeitungswissenschaft; vom 2. Studienjahr ab kommt noch ein Spezialfach hinzu. Vom Oktober 1951 ab sollen auch Kurzlehrgänge von je 5 Monaten Dauer durchgeführt werden. UBz: Selbststudium im Zimmer einer Studiengruppe. Illus Illner 24.5.51 Gr-Be.
This image was provided to Wikimedia Commons by the German Federal Archive (Deutsches Bundesarchiv) as part of a cooperation project. The German Federal Archive guarantees an authentic representation only using the originals (negative and/or positive), resp. the digitalization of the originals as provided by the Digital Image Archive.
File history
Click on a date/time to view the file as it appeared at that time.
File links
The following 2 pages link to this file: